Support Worker Myth-busting – What's it really like working in care?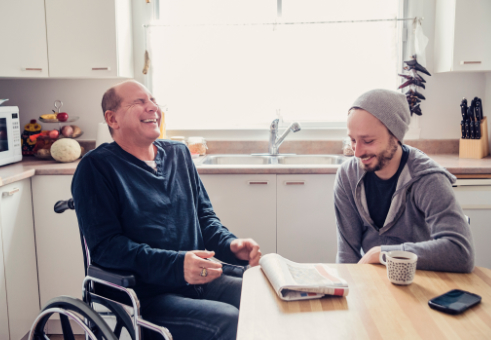 There's lots of assumptions about being a Support Worker, most of them are total myths
Let's look together at the most regular myths we come across, that people might see as obstacles or reasons to not work in social care, but that simply aren't the case.
I don't have any care qualifications so I could never get a job
You don't need any previous experience or specific qualifications to work at Avalon Group. We provide full training to get you started on the social care ladder. All we ask is that you are a caring person who wants to make a difference to the lives of local adults, and that you have values that align to ours (click here to see our values).
If you're keen to learn more and develop, we also support progression into more senior roles by funding NVQ's and apprenticeships. We're proud to say that 60% of our managers were promoted within Avalon from their roles as Support Workers.
It wouldn't be a fulfilling job, it's all just personal care and short visits
Avalon is different from many care companies, because we support people for a minimum of an hour at a time, as opposed to short calls of just 15 minutes. This means you get to build meaningful relationships with the people you support, delivering truly person-centred care that has a massive positive impact. You will see the difference you make each day, and feel that sense of purpose that comes with improving lives.
No two days are the same, and while sometimes you might be supporting someone to live well in their own home, you can also be helping people to do what they love, like going shopping, to the theatre, to events and to live a fulfilling life.
Pay is too low
Working in care is of course very rewarding, but we know that the pay for the work we do should be higher – we constantly lobby local authorities and government to address this issue – we are proud that we pay higher than the living wage, and are committed to increasing this further – we also provide additional diverse benefits to our colleagues that subsidise expenditure and provide additional support, paying our staff for things like travel and training, and covering the cost of DBS checks.
There's chance to take on additional work when you have availability, and there's great career progression routes for people who want to take on more senior management and leadership positions.
Working hours are unpredictable, it wouldn't fit with my life
While Avalon does provide care to people 24/7, 365 days of the year, we can provide pretty settled hours and shifts, and we always provide staff rotas a month in advance so you can request changes where possible.
We are passionate about our staff achieving the work/life balance they need, and want to make sure both our staff and customers are happy with their Avalon experience.
Employers don't value care workers
We can't speak for other providers, however Avalon values all of its colleagues because without you we cannot achieve our vision to support people to achieve their best life experience.
There are lots of ways to get involved and make a difference to how Avalon is run. We have an Employee Forum with reps from across the charity, Community Champions who setup social and charitable events in each locality, and we have an annual satisfaction survey process where we ask all our colleagues to tell us what we do well, and where we can improve. This forms an action plan of ongoing yearly changes that make Avalon an even better place to work.
We have lots of exclusive benefits to support you, including a dedicated support helpline for personal or work matters, access to free mental health support, an exclusive discount scheme for money off at online and high street retailers, health cash plan supporting with medical costs (including optical and dental work), personalised career journey, and internal awards programme to recognise great work.
We consider ourselves a family organisation, where we take care of each other and strive to provide the very best working experience.
If you think Avalon could be the place for you, check out our latest vacancies and apply online. We'd love to meet you.
< Back to latest news